Little Reader Content Printouts
Currently available only as a set with the 8 core categories from the Little Reader curriculum. Available only while stocks last.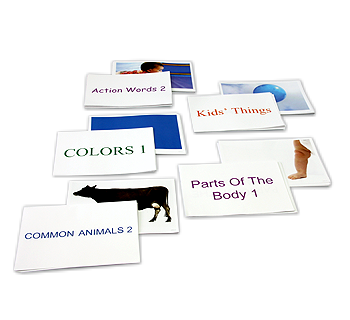 The Little Reader Content Printouts are specially designed for multisensory lessons where you can show your child a different image of the same thing every time.
Start teaching your child out of the box with these pre-printed word and picture sheets in full-color. Show your child the printed word you want to teach and then show a picture associated with the word for a more interactive approach to teaching.
Product Features:
156 full-color word and picture printouts for 78 words

Each word comes with 2 sheets, folded in half, where each side of a sheet has 2 word prints (in different font styles and colors) or 2 different picture prints
We've already printed out words and pictures for words from 8 core categories of the Little Reader English curriculum to get you started on enforcing your Little Reader lessons. All you have to do now is stack the printouts together, and start teaching! To get more use out of each printout, just insert the printouts into your Flap or Flash Card.
One set of Content Printouts includes word and picture sheets for the following set of words:
Action Words 1
Action Words 2
Common Animals 1
Common Animals 2

clap
wave
kick
point
laugh
eat
stand
sit
drink
smile

kiss
cry
jump
crawl
nod
read
sleep
hug
dance
blow

dog
cat
horse
pig
bird
duck
frog
donkey
fish

chicken
cow
mouse
rabbit
goat
sheep
rat
hamster
lizard
Parts of the Body
Parts of the Body 1
Colors
Kids' Things

hair
eye
nose
ear
mouth
chin
lips
teeth
tongue

head
hand
leg
neck
belly button
arm
finger
foot
shoulder
toes

red
green
blue
yellow
orange
brown
pink
purple
black
white

toys
doll
crayon
ball
balloon
bubble
blocks
jig
saw
bricks
book
teddy bear