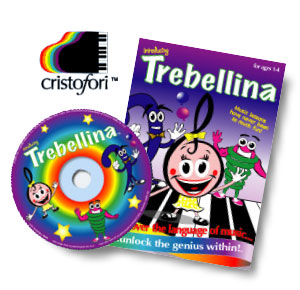 Discover the language of music with Trebellina and Friends!
Trebellina is the first educational DVD for young children to utilize a patented teaching method. The method integrates different senses in the learning process and reaches all types of learners.
Through the DVDs, animated characters Trebellina and Rock Bassey (styled after the treble and bass clefs) teach music so that little ones see and hear the notes, note names, and corresponding piano keys on the piano. The DVD also contains live action segments that challenge children to practice their rhythm and identify the names and sounds of various instruments.
The Trebellina DVD is designed for children aged 1-4.
The Cristofori Baby Company LLC, creator of Trebellina, recognized that countless parents want to afford their children the opportunities associated with a better education and are aware that teaching music to young children is a great way to start. The Trebellina DVD fills the gap between the mommy-and-me music classes currently offered and the formal music lessons that young children typically wait years before starting.
To parents interested in facilitating early learning and teaching their children music, Joseph Scarpa, President and Grand Maestro of Cristofori explains, "Music is a language and, like all language, the earlier it is introduced the better." Says Scarpa, "Trebellina's patented method of teaching is highly effective and utterly entertaining. There is nothing else like it." He adds, "with Trebellina, parents can jumpstart their children's music education at a fraction of the cost of just one typical music lesson."