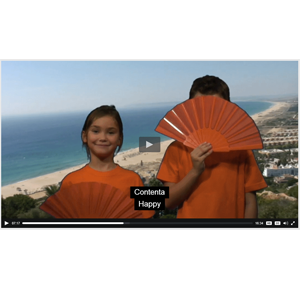 Have fun learning to read, speak, and sing in Spanish with Speekee!
A single online subscription includes four extensive learning plans:
FASTTRACK
Homeschool Spanish curriculum for children aged 4 - 7
Confidently homeschool Spanish with a minimum of preparation time by using Speekee's fully resourced, structured and flexible curriculum
ACCELERATE
Homeschool Spanish curriculum for children aged 8+
Your child develops listening, speaking, reading and writing skills using Spanish language and grammar appropriate for real life communication
TV
Video based language immersion program for children learning Spanish
Children learn Spanish quickly by immersion in real Spanish language
PLAY
Immersive interactive gameplay experience.
Develop Spanish skills with friends in a highly creative environment
SIGN UP NOW to start learning Spanish with Speekee. Bundle Speekee® FastTrack, Accelerate, TV and Play in a single subscription!
Lingua4 Ltd., the creators of Speekee, is made up of four specialists who are experts in music and language learning.
Speekee was created when it was understood that a truly brilliant Spanish learning product for young children simply could not be found anywhere in the world. After extensive project work, Speekee was born. Containing all the essential elements for children to learn quickly and effectively, such as puppetry, animation, songs and native speakers, Speekee packages everything together in a series of rhythmical episodes which captivate the viewer. Its standout feature is the complete absence of English, proving that learning Spanish through immersion is not only possible; it is the way.
Speekee wins high praise from both the children and their parents:
"I'm not going to waste any time with this one. No opening chit chat. I'm getting straight to the point: We Love Speekee! I can't say enough about this Spanish program for kids" – Homeschooler of two young children
"I just signed up for your online subscription. It is very good" – Director, BrillKids Foundation
"It is so engaging and colourful but most importantly authentic... A great product" – EyeOnSpain.com