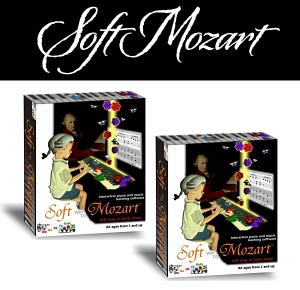 Soft Way to Mozart is a curriculum that covers music education for all ages beginning from 24 months through elementary and on to secondary school levels.
It consists of the following components:
eyeNotes™ – visual and interactive sheet music. There are about 400 piano pieces in the form of software. Instead of placing a piano book on a piano stand, music sight-readers see notation on the monitor. When they play the notes, they see feedback through different animation characters.

Gentle Piano™ software games that teach music theory and provide ear training. One game, for instance, teaches Note Duration, another Notes on the Treble Staff. There are a total of 6 such games.
Also includes Lesson plans, Flash cards, Books, and Audio materials.
You can find all the listed items at the Soft Mozart Store store and buy them in downloadable and/or packaged versions with the CDs and materials. Visit their site and you'll find everything you need to start and continue your music education - whether a beginner, intermediate or advanced student (or even a piano teacher!)