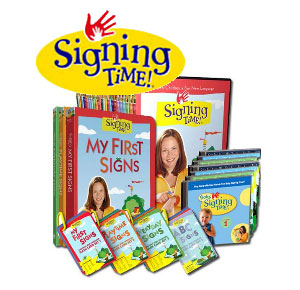 Teach your kids to sign with Signing Time!
Many parents rave about the benefits of teaching their children how to sign, and the trend is steadily growing with more and more families acknowledging the advantages that teaching your child how to communicate early can bring.
Children in preschool and kindergarten learn the signs for "bathroom" and "quiet" - two of the most useful signs in the classroom - while parents aim to promote early communication skills to alleviate temper tantrums and help address the needs of their babies. Both in school and at home, signing can be very helpful, and a lot of fun to learn.
There are many products and brands in the market geared towards teaching you and your little one how to sign, but Signing Time may well be one of the best.
This line of American Sign Language (ASL) products was created by two sisters, Rachel de Azevedo Coleman and Emilie de Azevedo Brown - Rachel's daughter, Leah, was diagnosed as deaf at fourteen months old.
With the entertaining videos, you and your child will learn signs by watching Rachel, Leah, and Emilie's son, Alex. Filled with cute and catchy songs, some animation and the two cousins, you and your whole family will be hooked to signing, as will your children!
In addition to the signing videos, Signing Time also offers music CDs, books, and flash cards.