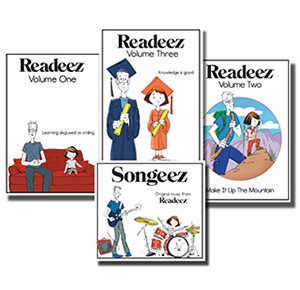 There's no more joyful way to learn that with videos and music from Readeez!
Since the first Readeez DVD was released in 2008, parents (and children of all ages) have been singing their praises. These are videos your kids will truly look forward to watching. And you'll want them to watch, as both phonics and sight words are taught automatically, elegantly, joyfully, with every syllable.
What's different about Readeez? The Music. Irresistibly entertaining songs that will have your entire family singing along. No kidding!
SyllableSync™. Your child both sees and hears each word pronounced at the same instant—an ingenious technique pioneered by Readeez.
The Characters. Julian and Isabel Waters are a lovable, animated father-daughter duo. Michael is their musically-inclined live-action friend. And starting with Volume Three (released in May 2011) there's also the bright, helpful presence of librarian/teacher Olivia Longlife.
Readeez are a natural complement for parents using flashcards or online reading programs. In fact, a Readee is rather like a succession of flashcards, with the added mnemonic boosts of melody and rhythm. It's an immersive, intuitive way to improve your child's decoding skills, with an approach similar to the way babies learn to understand spoken language.
In addition to the inherent reading instruction, there are Readeez videos that present math facts and concepts, musical literacy, colors, manners, time-telling and more.
Readeez collections are available as both physical DVDs and as downloadable versions that play on your computer, iPad, iPhone and AppleTV. A music CD and digital music download are also available.
Get your Readeez, Matheez, and Bible Readeez today!