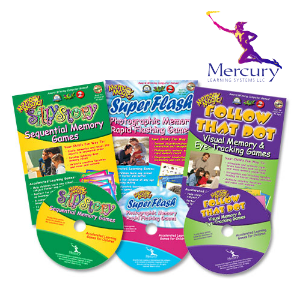 Teach your kids a foreign language with Memory Magic!
Memory Magic games are the perfect complement to your children's regular school lessons because, unlike other games, they use unique learning methods that help develop and strengthen the parts of the brain used for rapid memory and recall.
With Memory Magic games, your children can develop encyclopedic knowledge, 100 object sequential memory, rapid memory and recall, increased concentration, early word recognition, dramatically increased cognitive skills, creativity, self-esteem, and more.
Whether your child has learning difficulties or excels in school, these award-winning games will stimulate, invigorate, educate and captivate you and your children for hours on end!
Choose from our series of three game CDs all utilizing different fun-to-play accelerated learning methods. Or, get all three for over $20 discount!