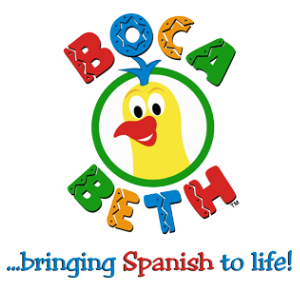 Raise a bilingual child the fun way with Boca Beth!
The Boca Beth Program helps empower young children to learn Spanish and English by providing tools (Music CDs, DVDs, books, and puppets) to parents and teachers that make the learning fun.
The Boca Beth products showcase a true bilingual presentation - meaning English is placed right alongside Spanish for an easy point of reference for both child and adult. Many experts agree that this bilingual methodology (often referred to as the parallel method or addition method) is best for young children still acquiring skills in their native language.
The Boca Beth Program teaches to the whole child using the Total Physical Response method by incorporating music for the auditory learner, DVDs for the visual learner, musical shakers and puppets for the kinesthetic / tactile learner and coloring/activity books for the early reader.
The Boca Beth Program and products have been created by a teacher and translated by native Spanish-speaking early childhood experts. No second language experience is required to use the fun Boca Beth products and techniques. In fact, the latest research says you do not need to be a native speaker in order to introduce a second language to little children!