Already joined the previous contests? NO PROBLEM!
All BrillKids software users (both trial and licensed) are eligible to join this contest! Even if you joined the previous contest, you may submit your entry for this month's contest provided your entry is not the same (or substantially the same) video as before!
Want to see how it's done? Watch these videos from the previous contests!
Megan at 23 months (winner of the Little Reader Video Contest (Part 5)
Yayou at 21 months
Anita at 2.5 years

Owen at 16 months
At 20 months old, Owen began to decode words he had never been taught through LR. He actually speaks more when prompted to read written words... Read more.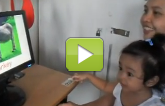 Emery at 16 months
She started to recognize words at 12 months. We started using Little Reader at 14 months of age, and at 16 months of age, results are evident immediately! Her vocabulary increased... Read more.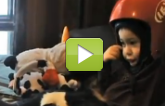 Aiden at 17 months
Aiden surprises me each time we do our lessons: he always reads new words/sentences that he wouldn't the day before. His vocabulary's expanding because of LR... Read more.
Cayden at 18 months
For several months now, as soon as Cayden sees LR open, he gives me a kiss. This program has made it so easy that even parents who have no idea what to do are able to assist children.. Read more.
Eaton at 18 months
My son has benefited tremendously from using BrillKids. With only a few minutes each day, the amount of knowledge that he obtains is amazing. More importantly, he enjoys the process... Read more.
Cammie at 18 months
Cammie can sight-read over 100 words, not including the words that we hadn't documented. Today, at 1.5 years old, she can phonetically read words. Little Reader is hands-down... Read more.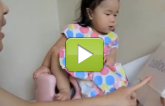 Hannah at 19 months
After just one month of using Little Reader, she could do everything you see her doing in the video already... I think it's just amazing how BrillKids helped mould her intellectual development... Read more.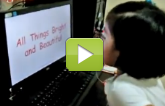 Ella at 22 months
Ella reads in English at about 3rd grade level and Chinese at 2nd-3rd grade level. She reads phonetically in Spanish and sight-reads more than 200 words in French even if we don't speak... Read more.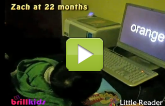 Zach at 22 months
At 32 months, Zach has progressed from reading words to phrases to sentences to stories and now to chapter books. I'm very happy that he has learned to love reading... Read more.
Anita at 22 months
Thanks to Little Reader, Anita can now read in Hungarian, Italian, German and English! Read more.